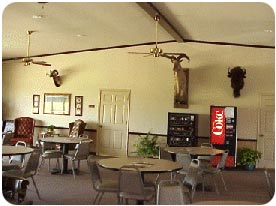 Enjoy relaxing after an exciting shoot in our new 3500 square-foot clubhouse. We have the amenities to serve your needs including:
Complete Pro Shop -- ammo, accessories and more!
We are an authorized Benelli, Beretta, Franchi, Stoeger, and Caesar Guerini dealer.
Complete accommodations for business meetings, banquets and private parties, including catering.
Snacks and soft drinks in our comfortable main room.
Our clubhouse is open for private parties, business meetings, corporate entertainment and fund-raising events. A wide variety of catering and banquet options are available. Contact us and we will accommodate your requirements.

Along with individual and family memberships, we have corporate membership options available, too. Please call for details, (903) 876-3291. Come out and give us a shot!